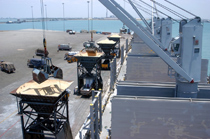 Sakthi Sugars Limited has pioneered the design and introduction of Mechanized Bulk Grain Handling System to handle Raw Sugar from ship to shore.

The System consists of a Hopper and Bag holding arrangement with a pneumatic system. With the help of the system one can easily unload bulk of Raw Sugar/any other grain from the ship through a Hopper. Then they can pack the same in Jumbo bags and place them on to the trucks.

The main advantage of this system is that there will be no cargo loss or contamination and unloading can be done a rate much faster than the conventional unloading and dumping of Raw Sugar / Grains on the wharf and again loading them on to the trucks with the help of front end loaders.

Currently the system is being used by all sugar mills to handle Raw Sugar coming to the Tuticorin port.