To ensure food security and to attain maximum productivity, mechanized cultivation of crops and efficient irrigation systems must be introduced.

As today's labor force is reluctant to come forward for agricultural operations in view of the tough nature of the job and low remunerations and also considering the lack of efficiency of manual labor, Sakthi Sugars Limited introduced 'mechanized sugarcane cultivation' as a means to increased productivity.

To implement mechanization of cane cultivation it also introduced the use of imported cane harvesters from Australia and also indigenously designed and developed farm implements to support the process. Again in order to enable the shift to mechanization it created awareness among farmers on the benefits they can achieve through mechanization. It also educated them on sub-surface drip irrigation system for irrigation and the need for creating 5.5 feet spacing between planting rows which facilitate the use of mechanized cane harvesters.

This shift of 5.5 feet spacing between planting rows ensured the use of mechanized cane harvesters which lowered the costs and yielded better tonnage per acre for the farmers.
Farm Implements designed and developed by Sakthi Sugars Ltd.
Modified Tumkur plough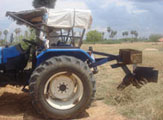 It forms deep furrows for optimum placement of cane setts and
Ensures better ratoonability.
Disc Off Barrer– It is a multi utility implement used for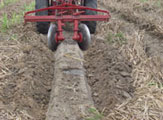 Debarring-cum-Fertilizer Application and
Fertilizer Application with Earthing up.
Roto incorporator
A versatile implement useful for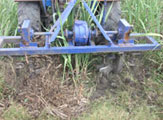 Weeding in wider row spacing and
Trash Incorporation.
Sakthi Drip lateral laying machine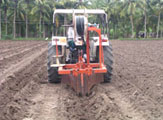 Sub Surface Drip Lateral Laying and Furrow Maker for cane planting.
Tractor for Inter Cultural Operation ( New Holland 3030 medium tractor )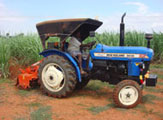 4 Feet Width Tractor designed for inter cultural operations in sugarcane viz., Weeding, Earthing up, Off barring, Trash incorporation.
Tractor mounted sprayers
Useful for large scale spraying of,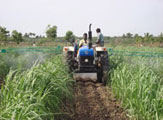 Chemicals to control Early Shoot Borer.
Weedicide.
Micronutrient.
Mechanical harvester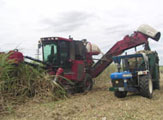 The mechanical harvester is an ultimate solution for millers and sugarcane growing farmers.

Sugarcane farming is not so laborious compared to other crops. But since sugarcane is an annual crop it easily requires 215 – 220 labor per annum to cultivate one acre area of land. In this, the majority of labor, say about 75 -80 of them will be required for harvesting alone, that is about 33 % of the total labor requirement. If we look at Harvesting it is the least preferred job among agricultural labor as it is the most laborious and time consuming job performed in poor working conditions with poor monetary returns. The lack of agricultural labor has also made harvesting a costlier affair in sugarcane farming.
Advantages of sugarcane harvester:
For farmers
Increased yield because of effective harvesting as it roots down to the bottom level of the crop i.e. 2'' below the ground level.
Saves additional expenses spent on stubble shaving.
Fosters better ratoon rejuvenation as harvesting is done well beneath the ground level.
Leads to increased number of ratoons. (Multiple ratooning).
Results in better ratoon performance as harvesting operations are taken up in one stretch.
Sugarcane trashes which are left in the field as small pieces get easily decomposed. It also acts as mulch to the field and reduces the risk of early shoot borer besides saving the crops during drought period.
The harvested cane is delivered to the factory within 1- 2 hours of harvest, which avoids weight loss and sucrose inversion.
Uniform and reasonable cost of harvesting for the entire season.
For millers
It ensures uninterrupted cane supply.
Results in a sustainable supply during festival days also.
Multiple ratooning ensures no drastic changes in the cane availability from year to year.
Wider row system reduces the cost of operation to the farmers and enables them to realize higher profit. This enables economic cost of cane to be maintained at reasonable levels making it profitable for both the farmers and the factory.
Cane Mechanization brings numerous benefits to the sugar industry. It helps cane growers to stabilize their cane yields. It also reduces the cultivation expenses considerably. The profit margins to cane growers improve significantly. And any move that increases the efficiency of this sector will in turn ensure the survival of the industry and make it more competitive in the world market.

Akin to Cane Mechanization a decade and half back the use of paddy harvesters were unheard off. Now use of paddy harvester is in magnificent proportions and due to which the area under paddy cultivation are still maintained in spite of labor problems. Likewise the sugarcane harvesters have also came into existence for the farming community to achieve sustainable productivity.