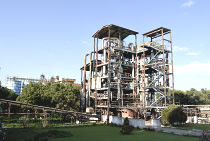 Sakthi Soya is the pioneer in introducing Soya Beans (Non-Genetically Modified) in the southern part of India. It has the capacity to process 90,000 tonnes Soya Beans per annum. The Soya Beans processing complex was commissioned in the year 1990 with imported machinery and technical knowhow from Extechnik, Germany and Buhlers, Switzerland. It is Asia's best Soya Processing Complex with the innovative Flash Desolventising System (FDS) for food grade Soya Flour Production.
The plant is equipped with
Seed Preparation Plant.
Solvent Extraction Plant.
Oil Refinery.
Flour Milling.
Extruders, Slicer and Drier.
Acid Oil Plant.
Lecithin Recovery Plant.
Quality Control Laboratory.
Packing System.